I've been having some serious bread cravings lately...and no, not like the "pickles and ice cream" type of craving, as Tom asked :P. I've made simple doughs before for pizzas and rolls but this is my first attempt at a real loaf of bread. It turned out pretty well but I think it could have used more oomph...maybe next time put some cheese IN the bread...along with fresh herbs instead of dried? Could have maybe let it rise a tad longer, too. Regardless, it had a pretty good crisp crust to it and a nice soft inside. In only about an hours time from start to finish you can't argue with a fresh bread made from scratch. A delicious compliment to our spaghetti and meatballs and a nice change from the typical frozen garlic bread.
Foccacia Bread

(Source:
All Recipes
)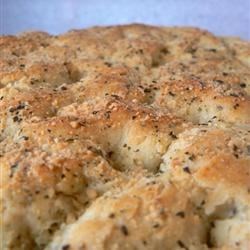 PREP TIME 20 Min
COOK TIME 15 Min
READY IN 1 Hr
SERVINGS 12

INGREDIENTS
(
Nutrition
)
2 3/4 cups all-purpose flour
1 teaspoon salt
1 teaspoon white sugar
1 tablespoon active dry yeast
1 teaspoon garlic powder
1 teaspoon dried oregano
1 teaspoon dried thyme
1/2 teaspoon dried basil
1 pinch ground black pepper
1 tablespoon vegetable oil
1 cup warm water
2 tablespoons olive oil
1 tablespoon grated Parmesan cheese
1 cup mozzarella
DIRECTIONS
In a large bowl, stir together the flour, salt, sugar, yeast, garlic powder, oregano, thyme, basil and black pepper. Mix in the vegetable oil and water.
When the dough has pulled together, turn it out onto a lightly floured surface, and knead until smooth and elastic. Lightly oil a large bowl, place the dough in the bowl, and turn to coat with oil. Cover with a damp cloth, and let rise in a warm place for 20 minutes.
Preheat oven to 450 degrees F. Punch dough down; place on greased baking sheet. Pat into a 1/2 inch thick rectangle. Brush top with olive oil. Sprinkle with Parmesan cheese and mozzarella cheese.
Bake in preheated oven for 15 minutes, or until golden brown. Serve warm.